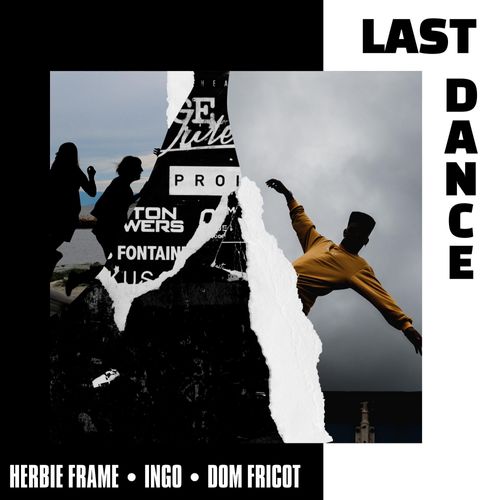 Single Digital
released on
25 February 2022
Last Dance
Herbie Frames debut single "Strong", a high-quality pop production, was particularly popular with DJs and curators. The upcoming release "Last Dance", created in cooperation with INGO and Dom Fricot, presents itself as the next catchy tune you won't be able to get out of your head. 
"Last Dance" is, as well as the previous song "Strong", characterized by elements of various genres ranging from pop to electro, techno and dance. The composition was created by both Herbie Frame and INGO. His expertise as professional drummer allowed for new ideas and complex beats, exploring new effects, genres and sound-combinations. The rhythms and melodies flow seamlessly into each other, emphasizing the compositional strength of the duo even more.
While the lyrics were written by Herbie Frame, Dom Fricot performs "Last Dance" in a convincing and effortless manner, adding another nuance to the song with his calm, concise baritone.
"Last Dance" is the result of the perfect coordination of the high-quality composition with the professional singing, the symbiosis of various genres and the cooperation of three excellent artists.
Herbie Frame is a music producer, songwriter and guitarist. He makes high-quality pop music with professional compositions and sophisticated lyrics. As a trained classical guitarist, the artist is familiar with the composition of musical pieces, and various elements and influences from genres such as funk, electronic or rock flow into his songs. He discovered his passion for music early on, which he has lived out over the years through various projects, including classical, film and electronic music.
INGO is a german based producer, drummer & orchestral percussionist. He was born in Kassel in 1995 and started playing music at the age of 4. After studying music at the Hanns Eisler music conservatory and the School Of Popular Arts in Berlin he was appointed as the principal percussionist in the "Osnabrücker Symphonieorchester". He has played with great artists like the Berlin Philharmonic Orchestra, Sir Simon Rattle, State Opera Hannover to only name a few. 
Over the years he started producing his own music. There will be a lot of upcoming tracks, so stay tuned.
For canadian born Dom Fricot, music has always been a form of therapy since he began touring with bands in the early 2000s. Recently relocating to Berlin, Germany, Fricot has developed a ferocious appetite for collaborating, forming roots and organic projects like Flora Falls and Folk Road Show while lending his vocals to the electronic work of Sascha Braemer, Ellipso and Rodg to name a few. Releasing everything from live off the floor folk music to auto tuned club bangers to 90s alt guitar rock there are very few clues or hints as to what Fricot won't do.